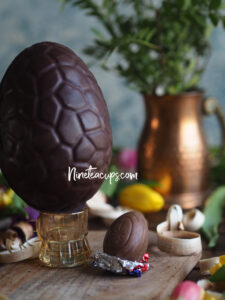 This Easter we are launching our best product yet: Smash The Patri-Eggy in aid of The Centre for Women's Justice. Why have an Easter Egg when you could have a fondant filled Easter Egg?
Available until the end of April, this Chocolate egg is no ordinary Chocolate egg!
Smash The Patri-Eggy the Easter egg sized fondant egg
Plant-based, made with finest 55% belgian chocolate, and filled with gooey handmade fondant, it comes in two sizes;
Medium (10cm) chocolate egg
and Large (15cm) egg. With the Large weighing in at approximately 900g.
What you should know is that, making a giant fondant egg is not the finessed work of our usual chocolatier work – each handcrafted egg will take 4 days to make, the shell is thick and has been designed and tested to contain the delicious gooey fondant inside. If you order for postal delivery, it might crack – we promise that we will wrap it correctly and do everything within our power to try and stop this from happening…but it might!
All profits will go to the Centre For Women's Justice, an incredible charity that works to hold the state to account and challenge discrimination in the justice system around male violence against women and girls (Charity Number: 1169213).
Their vision is a society in which all state institutions work effectively to eradicate male violence against women and girls. They do this by:
Holding the state accountable for failures in the prevention of violence against women and girls
Supporting individuals and groups who challenge institutions and laws that perpetuate such violence
Undertaking strategic litigation and facilitating legal assistance
Bringing together victims, women's groups, lawyers, academics and other experts in the field of violence against women
Raising awareness of specific cases and issues arising from our work
Monitoring and challenging trends in policy, practice and the law which impacts on violence against women and girls
Like to know more about what we do? click here
Order yours here and let's #SmashThePatriEggy this Spring!